What brought you to the Capital District?
I grew up in Rochester, NY, and moved to East Greenbush when I was a high school sophomore. I left for college, then returned to work at a local paper as a reporter. Coming back as an adult gave me the opportunity to fall in love with this area on my own terms. I love the Troy Waterfront Farmer's Market, all the hiking and camping opportunities around the Adirondacks, and the vibrant art community. I've really gotten attached.
Tell us a little bit about yourself.
I'm a new mom! My son, Michael, was born September 4, 2020. I have a bachelor's degree in journalism from Emerson College, and since graduating, I've worked in news, government, politics, restaurants, elementary schools as both a substitute teacher and a library employee, and marketing at a paper company. Throughout it all, I've been building my own business as a photographic artist. It's the one thing I never get tired of doing.
What is one thing people would be surprised to know about you?
Before COVID struck, I was a Superhost on Airbnb! We rented out our guest room right here in Troy, and we have the most wonderful guestbook as a reminder of the people we met from all over the world—one entry is even written in Chinese.
What are your favorite things to do at home with your son?
Michael is still little, so I love to sit in front of the mirror with him and try to make him giggle. We also watch Curious George together until we both fall asleep. And, of course, I love to photograph him. He changes so quickly, it feels important to grab those memories and hold them tight.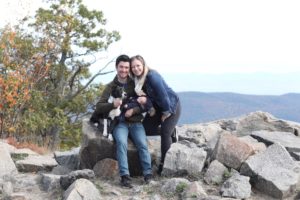 When did you start your photography business?
I started charging people for photographs in 2015, but I was the unofficial photographer for my own friends and family long before that. I used to borrow my mom's camera and set up elaborate shoots using sheets from the linen closet, then bribe my siblings to dress up and pose. I'd bring the camera to family picnics, weddings, vacations—everywhere. I like being able to show other people how I see the world, and how beautiful our connections with each other are. I'm very sentimental.
Where are your favorite places in the Capital District for family photos?
I love the Pruyn House in Colonie. There is such variety there, from the garden to the barn, open fields, woods, and the beautiful historic house. I can create a huge number of unique images in a short amount of time. It doesn't hurt that I married my husband, Tom, there in 2017—like I said, sentimental!
I also love to photograph people in their own backyards. It adds this element of authenticity that shines through, especially if there are little kids involved because they're just more comfortable and natural at home.
Have you helped photograph any big fundraising events in the Capital District? 
Mom Prom is the best! It's this wonderful fundraiser where moms get dressed up and dance like it's prom again. I was invited to photograph the Clifton Park event in 2019 by another photographer friend of mine, Kerensa Rybak, who helped plan it. The energy there was incredible. Everyone really let loose. Toward the end of the night, someone ran off with a cardboard cutout of Chris Hemsworth and tried to stuff him in her trunk. At the time, I was seriously thinking about what it would be like to start our family, and seeing everyone genuinely enjoying themselves helped me overcome my fears. Now that I'm a mom, too, I plan to participate in the next one instead of working it! I haven't officially photographed any other big events besides weddings, but hey—I'm available (wink).
Could you tell us a little bit about your mini sessions?
Mini sessions are perfect for quick, seasonal family photo updates. Every mini session marathon centers around a new, handmade pop-up studio, custom-built for the occasion. You won't want to miss this summer's styled mini sessions! Spaces fill quickly—sign up to be notified when minis are announced at https://rebeccagatto.com/email-vip.
Follow Rebecca Gatto Photography on Facebook & Instagram
Website: rebeccagatto.com
Email: [email protected]
Phone: 518-930-8174 (texts welcome!)
Sign up to be notified about mini sessions: https://rebeccagatto.com/email-vip.
Spring pop-up sessions are almost here!
I'm excited to announce that Rebecca Gatto Photography's spring pop-up studio will take place at Grafton Lakes State Park. This location will allow us to enjoy fresh air and beautiful scenery—not to mention safe social distancing practices.
Pop-up sessions are 20-minute portraits, also called "mini sessions" or "minis," that give families the chance to update their photo albums in a laid-back atmosphere. Short appointments are especially great for families with kids who have a hard time sitting still. And, since multiple sessions are scheduled for the same day, your photographer can go all-out with themed set pieces.
These family-friendly sessions are an opportunity to make a new memory, celebrate your family, and have some portraits made, too. If you've never been to Grafton before, you're in for a treat. The park has multiple playgrounds, a sandy beach, and multiple hiking trails for all levels of fitness, including a short trail that allows you to read a children's picture book one page at a time as you walk. By the way, the park is pet-friendly, and so are pop-up sessions! After all, pets are family, too.
I invite you to email me with any questions at [email protected].
Space is limited! Join my email list to be notified as soon as appointments are open. https://rebeccagatto.com/email-vip