Where are you originally from? How long have you lived in the Capital District? What brought you to the Capital District?
I am from New Orleans and moved to the area for my husband's employment in 2011.
How many children do you have and what are their ages?
I have 3 daughters ages 5, 20 months and a newborn born in August.
What is your favorite thing about being a mom?
My favorite thing about being a mom is the notion that I get to experience true unconditional love.
What is one thing people would be surprised to know about you?
Probably the most surprising thing is that growing up, I did not want to have girls and turns out I couldn't imagine having boys. I am a girlmom through and through!
Where is your favorite place to go as a family in the Capital District?
Our family go to experience is the Saratoga State Park. There are endless activities to do throughout the year!
Where is your favorite place to go out to dinner in the Capital District?
We love to eat at Flatbread Social for dinner. They have a make your own pizza menu for the kids and amazing specialty pizzas for us!
What is one piece of advice that you would pass along to other moms?
Be kind to yourself and don't compare your parenthood journey to other parents because each of our stories are our own. Remember, you are doing a really good job!
You own Palette Cafe that opened a few months ago in downtown Saratoga. Could you explain more about Palette cafe?
Palette Cafe is a place that celebrates culture, shared ideas and connections. It's the perfect place to stop in with your girlfriends or family to enjoy a cocktail or a cup of coffee.  It's also the ultimate location to bring your laptop, plug in and get to work on whatever it is you need to conquer. We serve pastries, lunch items and on-the-go snacks for all creative souls looking for a break in an amazing space. Palette Cafe is conveniently located at 493 Broadway in downtown Saratoga and is open daily from 8am to 8pm.
I heard that the cafe has a ton of awesome events including mom meet ups. Could you tell me more about the events?
The cafe hosts a variety of events every week, including local mom meet-ups for moms with kiddos of all ages, a great opportunity to meet other local moms & give your kids a chance to play with other kids their age. Be sure to check out our events page for all of the fun happenings going on at Palette.
Palette is more than just a cafe. Could you explain what Palette Upstairs is?
Palette Upstairs is where the full vision of Palette comes together. It will feature a larger co-working environment with event programming, membership opportunities and other amenities. There will be conference room space and areas for larger event gatherings. Conveniences such as printing, fax and private rooms will be available. Memberships will range from yearly and monthly to daily as well as corporate options. There will also be incredible member benefits including an array of exclusive amenities such as unlimited coffee and wine, onsite concierge, Broadway mailing address and more! Founding memberships are available now for a limited time!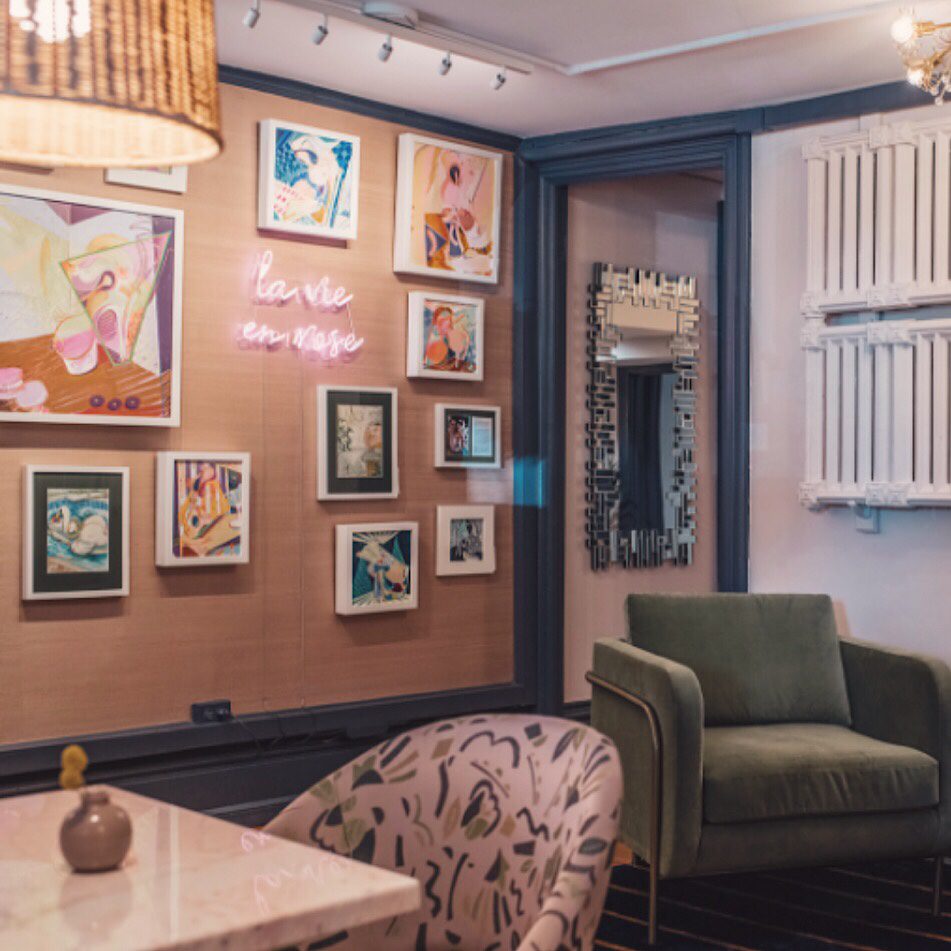 Click here to visit Palette's website
Click here to visit Palette's Facebook page
Click here to follow Palette on Instagram
The pictures of Palette Cafe were taken by Alexandria Eigo Photography. 
The pictures of Catherine and her family are personal photos.
This post is sponsored by Palette Cafe.